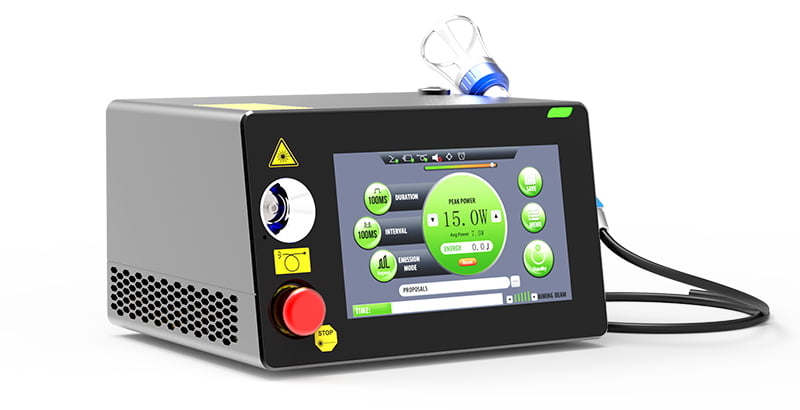 Harlas Surgical Laser – High Quality Full Metal Housing and Elegant Design
Harlas is an outstanding surgical laser machine designed with the latest techniques and manufactured with components which are supplied by the world well-known brands. It has a compact and modular design mainly in silver aluminum alloy housing and black tempered glass panel, exuding soft luster, aesthetic feeling and delicate texture. It has a light weight and small size, which is easy to carry and easy in cleaning.
High-Quality Material
Harlas has an aluminum alloy housing that provides high strength, high thermal conductivity, high shielding and high corrosion resistance to protect it from damage. The texture of the material and color also brings aesthetically pleasing. And the high quality and reliability ensure users focus on the treatment with safety.
Portable Design
The whole unit is compact with modular design. The smallest-size laser 230(W)*180(L)*135(H) compared to lasers of the same power level.
Direct power supply without need of adaptor, the whole unit is easy to carry.
Sensitive Touch Screen and Easy-To-Use Interface
Harlas surgical laser gets a 7-inch color touch screen with high resolution 1024*600px that users can easily perform various kinds of surgical treatments or make various settings in a few taps. The intuitive operation system with power level, three operating mode (cw, single pulse, repeat pulse) and timer selections allows the user to use, adjust and save protocols easily. The screen brightness can be customized and adjusted for each operating environment.
Providing a Complete Set of Accessories
Harlas surgery laser equipment is specially developed with a full set of accessories which makes it available for multiple surgery and therapy treatment uses. Its accessories include safety goggles, fiber cutter, fibers, footswitch, surgical handpieces, fiber stripper, therapy handpieces. The full-range of accessories and our comprehensive services will bring you a convenient one-stop experience.
0.1W~45W Surgery Laser Machine of Different Wavelengths
Harlas surgical laser offers various wavelengths such as 650nm, 810nm, 980nm, 1064nm, 1470nm and etc. for doctors to select in line with the clinic treatment. Different wavelengths have different absorption capability and penetration characteristics, meeting a variety of actual clinical needs such as ablation, coagulation, vaporization and etc. Harlas surgical laser is developed with a wide selection of output powers from 0.1W to 45W, providing high flexibility for surgery doctors to choose according to the practical surgery and therapy application requirements.
Stable Working Performance, Long Stability and Competitive Price
Harlas surgical laser is designed with enhanced internal hardware structure and optimized software programs that it can be applied in various surgery and therapy scenarios for a long time with optimal performance and reliability. We also provide excellent after-sales service, free-warranty service and custom service for our customers. While maintaining the Germany quality, we provide competitive price for wholesalers and distributors!
Clinical Treatments
Suitable for Various Surgery and Therapy Applications
Dimed
2023-03-13T15:27:09+08:00
Laser therapy light is infra-red electro-magnetic energy entering the body as photons. The light beam of photons stays fairly ...
Dimed
2023-03-21T14:31:53+08:00
The Principle Of PLDD In the procedure of percutaneous laser disc decompression, laser energy is transmitted through a thin ...
Dimed
2023-03-24T09:17:33+08:00
Laser assisted lipolysis is a minimally invasive procedure for the removal of stubborn pockets of fat. It can ...
Dimed
2023-03-13T15:28:53+08:00
Hemorrhoids (also known as "piles") are dilated or bulging veins of the rectum and anus, caused by increased pressure ...
Dimed
2023-03-24T08:53:22+08:00
What Is Endovenous Laser Ablation (EVLA)? Endovenous Laser Ablation Treatment, also known as laser therapy, is a safe, proven ...
Product Specifications
Laser Type
Harlas GaAIAs Diode Laser
Wavelength
980nm
1064nm
1470nm
980nm+1470nm
810nm+980nm+1064nm
Maximum Power
30W/45W
30W
15W
15W+10W
15W+15W+15W
Operation Mode
CW, Single Or Repeat Pulse
Pulse Duration
10us- 3s
Repetition Rate
0.2Hz- 50KHz
Pilot Beam
Red Diode Laser Of 650nm, Power<5mW
Control Mode
True Color Touch Screen (7 inches, resolution 600*1024px)
Transmission System
Medical Fibers With SMA905 Connector
Dimensions
230(W)*180(L)*135(H) mm
Weight
3.5Kg